Evolve Hadean: Behind the design of an electric skateboard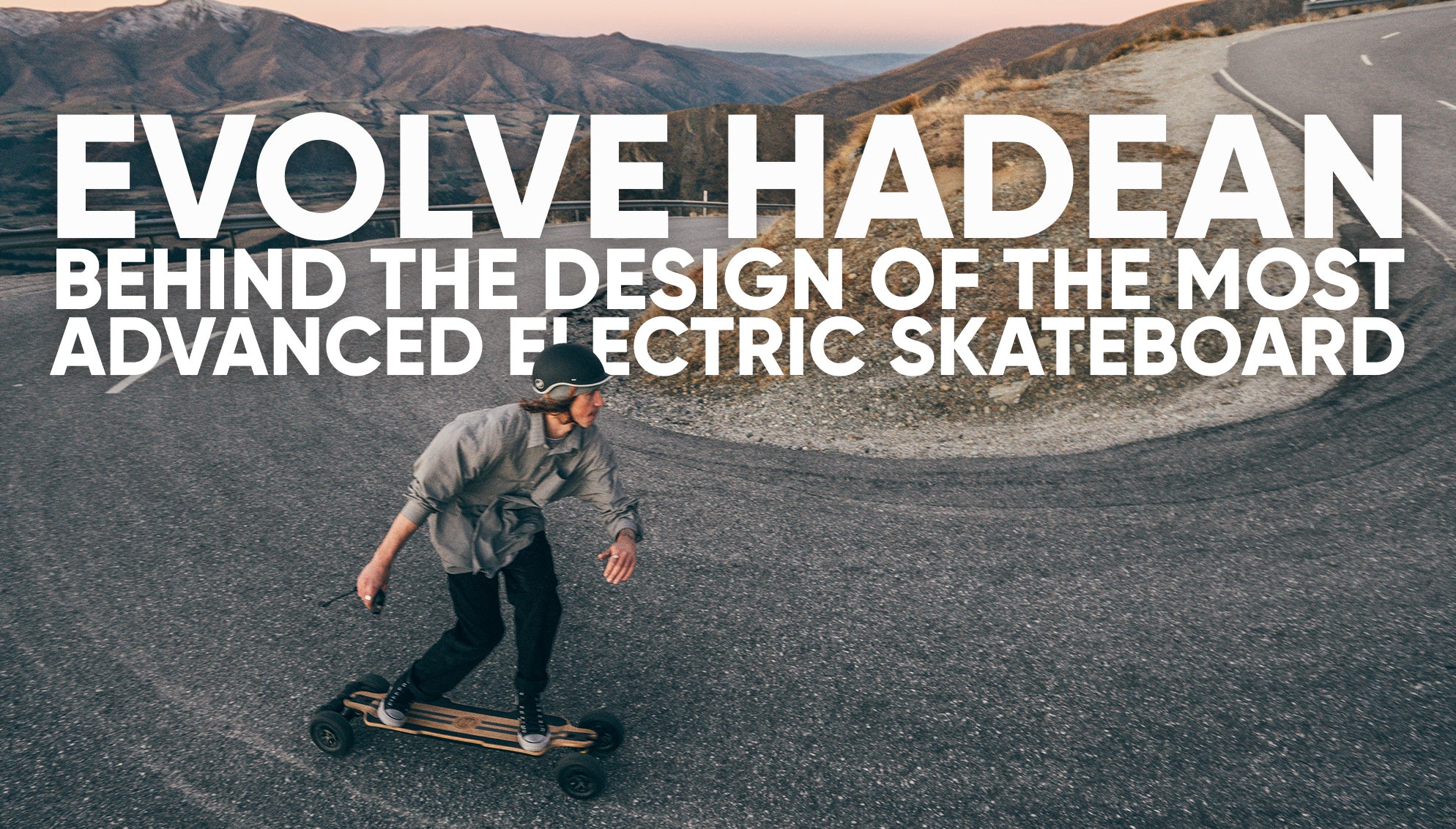 Improvement is easy, but innovation is not. Evolve Hadean is the new series of electric skateboards, and its design is revolutionizing the e-mobility industry. The Hadean Series offers 37% more battery capacity, a top speed of 40.4 miles, and 31 mph of range without turning it into a massive bulky electric skateboard. To encapsulates the new electric system and motor controller, the Evolve R&D team developed the world's first carbon forged deck electric skateboard. 
"The early stages of the process of developing a new product is fun. Basically, when you're putting a pencil on paper, you can do whatever you want. It's what people call blue sky thinking or wishful thinking. As you work through the process, you need to slowly put more parameters around what you have to do because it actually needs to be a product."says Jared, Industrial Designer.
We created innovative space efficiencies by configuring the electronics into a patent-pending layered system. By overlapping battery, BMS, and motor controller, this configuration allows the Hadean Series to have a unique deck design dictated by the rider experience and not just the componentry.
"Hadean Series represents everything that we've learned, discovered, and everything that we've imagined ever since we first started Evolve back in 2008. It's pretty much the history of Evolve all in one skateboard. It's everything that we believe an electric skateboard should be", says Jeff Anning, the founder of Evolve Skateboards.
The challenge
The design's challenge for our new series of boards was to have an electric skateboard with much more power, more speed, longer ride times, and but we didn't really want to make the board grow bigger. To achieve the sleek design, we had to go back to the drawing board.
We redesigned the whole electric system. We gave it a more powerful performance, but then we had to repackage it in a unique way to save on space. Therefore, the integration of all the componentry was a key factor. There's no other electric skateboard that has been designed and made this way before.
"When Jeff first started talking about the Hadean Series, he was talking about the next level of electric skateboards. To achieve that, we looked at things like high-performance vehicles, supercars, high-end design, and creating a product that was unseen, unheard of with technologies and design factors that aren't in the electric skateboard market currently.", says Jared, Industrial Designer.
Forged carbon chassis
The Hadean Carbon is the world's first "chassis" skateboard deck. The seamless integration of technology and ride performance is achieved through a forged carbon composite frame. The high fiber content and variation in strand orientation create the strength needed to support a next-generation electric system without adding unnecessary bulk.
Due to the manual layering of the forged carbon in each Hadean Carbon, no two decks are the same. Each board was boasting a one-of-a-kind marbled gloss finish.
More recently, Evolve Carbon Hadean Electric Skateboard received a prestigious Good Design Award Gold Accolade in the Product Design category in recognition for outstanding design and innovation.
Perfect stance
The Hadean Bamboo features our first-ever drop-down in a wood deck. This, combined with a wider concave shape, lets a rider lock their feet in for increased stability while carving and tackling off-road trails. It also features an adjustable wheelbase, center grip tape, laser engraved logos, and cutouts to mimic the iconic look of the carbon.
With lock-in drop-downs at the shoulders, riders can brace against the deck to secure themselves through tighter carves and aggressive take-offs. A wider foot landing accommodates all feet sizes, with a "w" concave underfoot, providing extra security.
Evolve Hadean key design features:
Cooling
Evolve Hadean has an aluminum air vent system that blends into the deck, housing the E-FOC ESC controller. Cast aluminum is CNC'd to create the precision dual finned channels that draw heat from the internal electrics. It allows maximum heat dissipation and the ultimate performance possible from the E-FOC ESC controller.
Customization
Both down-facing LEDs and E logo allow customization of colors and animation sequences from within the Phaze remote. Downloading and connecting with the Explore By Evolve App opens up even greater levels of customization, with dual colors and full RGB color selection.
The Hadean series is not here to replace the existing GTR Series. It's here to add a whole new level of electric skate performance. It's got more power. It's got more range. There's a lot more refinement to it. This is the Hadean Series.
Check out the full doc about the Hadean Series 👇👇👇