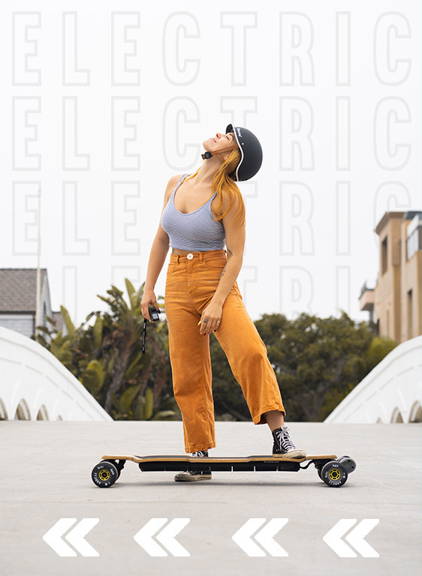 It's my 1st Evolve Board and I am super impressed with the stoke. It's the perfect size with plenty of power.
Equal parts amazing and terrifying. Best purchase in a long time. Excellent range on it, and glad I can tone down the max speed.
One of the best things I've ever bought!
If you want to feel like a kid again as you zip along on your magic-powered board, buy this.
Black Friday deals...START NOW.
Black Friday is upon us, and that means Evolve have got some massive discounts on electric skateboards! If you've been wanting to get your hands on the future of electric skateboarding but have just not quite been able to collect the cash to get started, then now is the absolute perfect time to take the plunge! Shop online or in-store for our Hadean and GTR 2.0 boards for massive discounts on these fantastic carving machines.
What Makes an Evolve Electric Skateboard So Good?
Well we're glad you asked! There are more than just a couple of reasons people are raving about our skateboards. But let's start with the speed. Adrenaline junkies can rejoice because now you can hop on an Evolve skateboard and zoom along at up to 31 miles per hour. Not for the faint-hearted!
But even if flying along at top speed feels like an endeavor you'd like to try a little further down the track, you'll be pleased to know that there's plenty about these boards to enjoy before getting to that point. The power of an Evolve skateboard is nothing like the jarring whip of speed felt on other boards. These boards are smoother than butter. They make use of FOC motor controllers to deliver power in a way that manages to be responsive, without feeling like the board is going to leave you behind.
To help you control all that your board is capable of, our state-of-the-art Phaze remote is the perfect tool for the job. Allowing you to customize and tailor the way in which the power is delivered when the board speeds up, and then also how the braking feels when you want to slow down. The end result is a combined sense of control and confidence in the board that will allow you to grow with it.
Then there's the build quality. Whether you're choosing to go with one of our carbon boards or the bamboo variants, both are made of the finest quality materials. In the case of the carbon board tops, these use the same forged carbon fiber more regularly seen in race cars than on skateboards. The bamboo models make use of multiple layers of bamboo and fiberglass that combined to create a board with the perfect amount of flex, while still maintaining the necessary rigidity you would come to expect from a premium board deck.
Given rising fuel costs, you'll need one of these in 2023. Now is the time to go electric with an Evolve skateboard.
Can I Jazz My Board Up Even More?
You bet you can! When you think of an Evolve electric skateboard, think of a classic longboard that has been souped-up with additional tech, but one that still retains all of those classic features that made longboarding popular in the first place. You can still play around with all sorts of twiddly bits on the board and customize pretty much everything and anything that a normal longboard would have. One thing is for sure, getting to work just got cooler.
If you want different wheels, you can change the standard set out for larger ones. That'll give you a speed boost as well (as if you needed it). Or you can go for wheels with a different durometer rating, meaning they'll be more grippy, or less grippy if sliding the board is more your style.
Then you can play around with bushings and pivot cups. Those will help you to really dial in the handling so that the board carves exactly the way you want it to.
But those aren't all. There's a tonne of customizable parts and add on's available for your board and with all of our Black Friday electric skateboard deals on offer, you'll have more cash left over to spend on tweaking your ride!
Speaking of finance, our options allow you to shop, skate, and pay later with interest free options.
Black Friday is starting early at Evolve. All boards are on sale, plus we're offering free shipping. So for a great deal on an Evolve electric skateboard, shop online on Black Friday for all the best prices!

For new board orders within the USA. Standard fees apply for other orders.

Try it out and if you don't love it return it in as new condition. * See store policies.

Team of USA based technicians and support staff dedicated to keeping you on the road.

Largest network of global support centres in e-skate.

Mastercard, Visa, AMEX, PayPal