Electric Skateboard San Diego: the local scene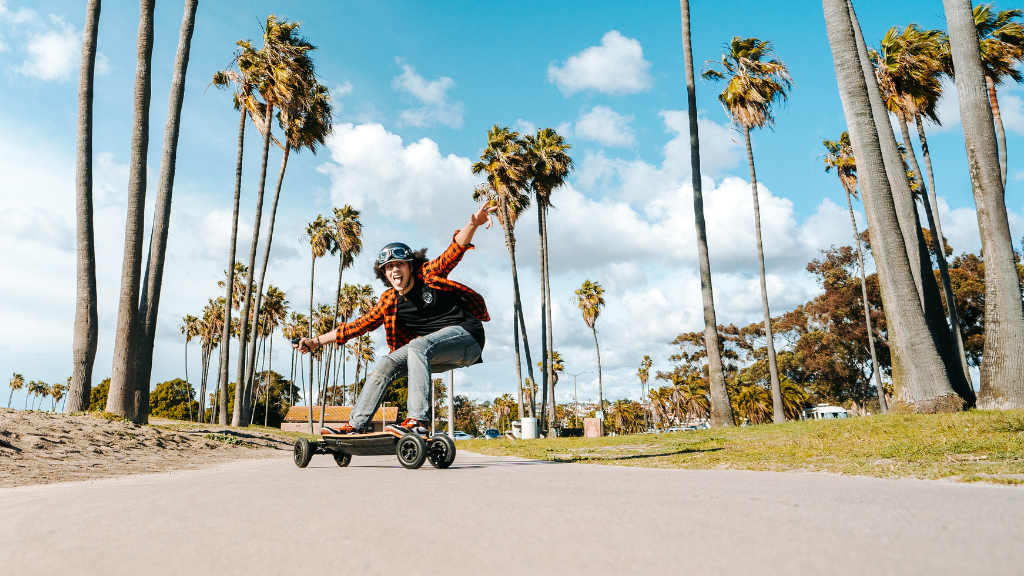 San Diego is considered the birthplace of skateboarding, being home to the west coast's first skate park. What began as a way to surf when the ocean was flat became an iconic Southern California tradition. Now, electric skateboards are the new trend in San Diego.

Electric longboards are fun and easy to use, opening up a whole new world of possibilities. "I was tired of going up and down the hills by pushing and running up the hill. I just wanted something that would get me up the hill" - Socal Legend, one of Evolve ambassador, in an interview about electric skateboards in Southern California.
Where to Ride Electric Skateboards in San Diego
Mission Bay Trail
Del Mar Cliffs
San Diego River Trail
Escondido Creek Bike Path
Los Peñasquitos Canyon Trail
University Heights/ Normal Heights
Pacific Beach Boardwalk
Lake Poway Trail
Fiesta Island Trail
Group Rides in San Diego
Evolve Skateboards is well known for its events and thigh community. In San Diego, it's no different. Here is the list of the most popular eSkate groups in San Diego:
ESK8 USA (Electric Skateboarding)

During summer, riders get together for Shred Sessions, a series of events in different locations across California. To get more info about the coming Evolve events in San Diego, check out our Evolve Events page. Evolve also organize races at indoor go-kart tracks and off-road tracks. Make sure you sign up for our newsletter to get the latest news in the electric skateboard world.
In 2018, the Evolve World Cup was held in San Diego. It was a 3-day event, with street and all-terrain races. The event was epic, and it was a milestone in the history of electric skateboarding as a sport.
Electric Skateboard Repair Shop Near Me
The Evolve Skateboard USA has its repair shop in Carlsbad, SoCal. It's not an average electric skateboard repair shop. You can chat with our technicians, ask questions, and try any of our boards. 
It's worthwhile noting that Evolve offers a 12-months warranty for their electric skateboard - checkout store policy. Never fear, Evolve crew is here! Besides the tech support, there are endless videos on Evolve's YouTube Channel to clarify any questions you may have. If you can't find what you're looking for, the Evolve crew is only a message away. 
Are Electric Skateboards Legal in California?
California has one of the most progressive legislations about personal mobility devices, which includes electric skateboards and e-scooters. According to California law AB-6904, it's legal to ride an electric skateboard on roads with a speed limit under 35 mph. You need to wear a helmet and have a headlight and reflectors (which can be attached to the rider or to the board). There is also a limit speed of 15 mph. 
The man who invented the aerial: meet Jeff Tatum
Disclaimer: This blog post is not to be construed as legal advice. Use common sense, and always check your local legislation to ensure you comply with the current regulations.